Video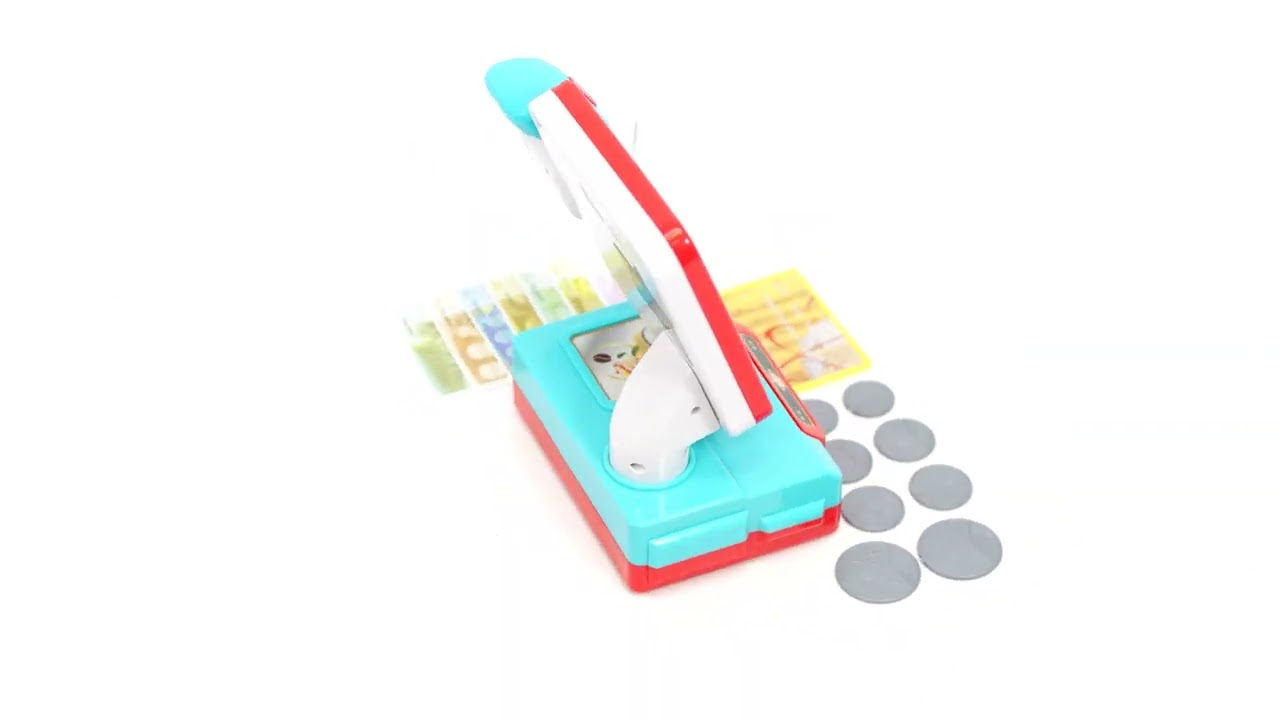 Description
cash register toy
This Cash Register Toy with the Sound will bring hours of fun and many benefits. It will help develop eye-hand coordination and encouragement. Children can simulate the supermarket shopping scene with their friends or parents.

FUN ROLE-PLAY
Scan through your shopping with the working scanner, and every time a child press the button, you will hear a sound, and the scanner light will go on. The size of this playset is perfect for little hands to operate it, and the set makes a great addition to any play area. This ideal pretends play toy helps children improve their language expression skills and cultivate imagination.

FEATURES OF CASH REGISTER
Touch screen with 8 keys of different foods, mark them to find out their price and charge customers correctly with the help of the calculator. The calculator on the screen allows children to do math operations easily. It will add, subtract, multiply, and divide the number chosen to sum up the correct price. Press the button to open the drawer that is divided in half so you can store the paper cash and coins separately or place a card to hear payment noise.

EDUCATIONAL ASPECT
This marvellous learning toy will improve and encourage your kids to learn math by using the calculator on the screen or while counting the money. It will help expand social skills, imagination and creativity, help develop children's intelligence, operation and thinking ability, interest, emotion, parent-child communication, hearing, interaction, and much more. Your kids will learn through play to be responsible. It is ideal for every child who loves to play the role of being an adult.

SET INCLUDES
This toy includes 17 accessories: 1 touch screen, 1x manual scanner, 1x credit card, notes and coins. Scan the products, mark them on the screen and charge the customer. The drawer opens by pressing one button! A symbolic toy that emits lights and sounds like a real-cash register. It is the perfect present for a birthday party, Christmas, holiday or just a gift without any occasion.

DIMENSIONS
Made of a durable plastic toy is battery operated and requires 2 x AA 1.5V batteries (NOT INCLUDED). The cash register features an ON and OFF button on the screen. The box measures approx. 22 cm x 12.5 x 22.5 cm L x W x H and weighs 0.52 kg. Suitable for 3years old or older children. Two colours are available, red with white or red with blue only one colour will be selected and sent randomly.
cash register toy
Specifications
| | |
| --- | --- |
| Barcode: | 5060758217872 |
| Material: | Plastic |
| Colour: | Multi-coloured, assorted |
| Dimensions (cm): | 22.0 length 12.5 width 22.5 height |
| World-Wide Shipping: | If you are looking to send a parcel outside of the UK, take a look at this article for helpful information. |
Little shopper
Looks really good. Afraid it is for a birthday present so I have not got it out the box but am sure our great niece will love it.
Great toy
Nice neat little cash register. Great features including real working calculator.
Toy till with sounds
An excellent purchase which kept my granddaughter amused for hours. Had the desired effect to drive mum and dad up the wall - ha ha
Well presented, plenty of toy money etc.
would highly recommend
Granddaughter loves it .
I bought this for Christmas and she loves it,it's small and compact very good value for money.