Video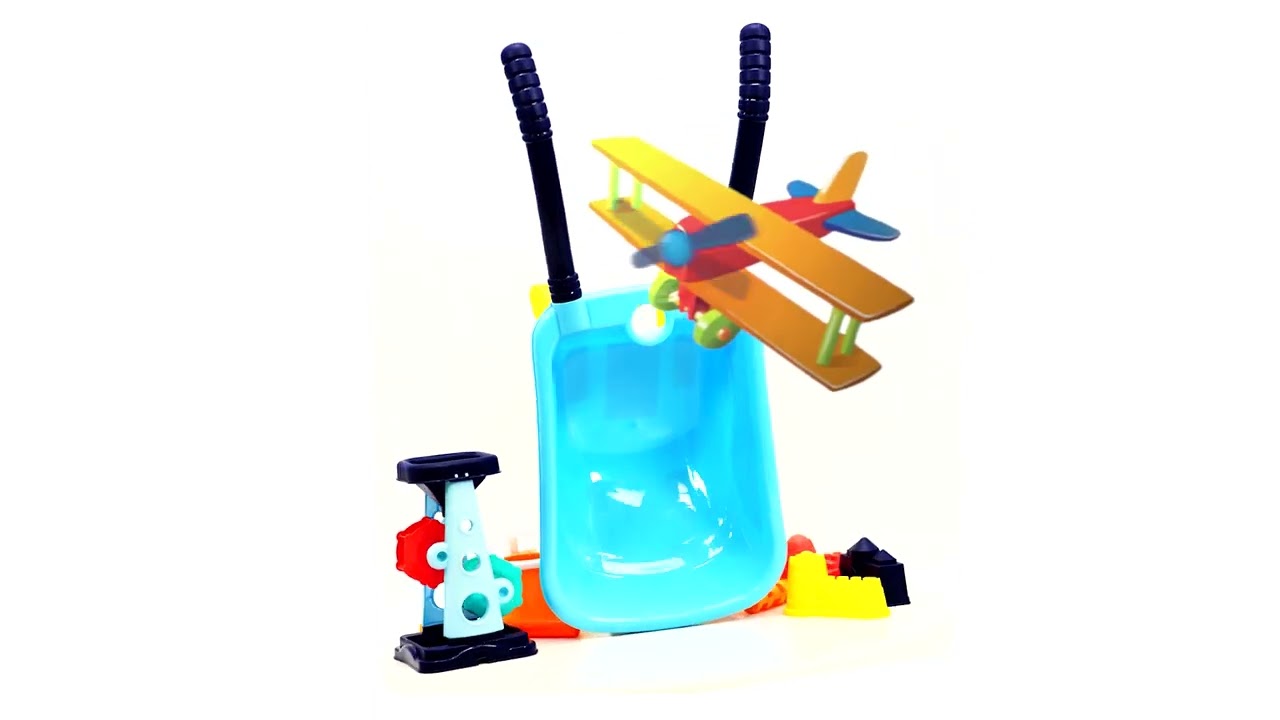 Description
sand toys
This toy set, along with the accessories is ideal for a family day out at the beach. Spend your day at the beach or in a sandpit in your garden, park or playground and help your little one build castles and all other kinds of structures.

BEACH READY
Load up the fun with this made of a thick plastic playset of beach toys. Fill the wheelbarrow with sand and water and let the fun begin. Did you know that playing in the sand is terrific for developing motor skills, building hand-eye coordination, and strengthening muscles? Your child exercises fine motor skills when learning how to properly hold a shovel in hand or during building a sandcastle.

TINY HANDS FRIENDLY
Lightweight and easy to grab. Mill with moving parts included: is suitable for sand and water. This toy will keep your little one entertained as they pour sand and water into the funnel and watch in delight as the brightly coloured cogs spin around and the sand pours down from the sieve at the bottom.

INDOOR OR OUTDOOR
Perfect under the sun or inside the house, this lovely sand and water set will keep children entertained for hours with plenty of messy fun! With lots of things to see and do, it is perfectly sized for little hands to use and comes in a colourful design. Kids can play with this kit anywhere. Use it in the sandbox, at the beach or even play with its accessories during bathtime.

8-PIECE WHEELBARROW PLAYSET
Fun beach toy set includes a wheelbarrow, two tools - spade in the round point and square shape with easy to grab handles, 3 plastic castle/tower moulds in bright colours, one watering can and sand and water mill with moving parts. The wheelbarrow rides smoothly on any surface, creating unique designs in the sand thanks to its durable wheel.


DIMENSIONS - This set is lightweight approx. 0.77 kg.
Wheelbarrow: Requires assembly, comes with two handles, tray, 2x legs at the back and 2x legs to attached wheel at the front, 1x wheel. It measures approx. 70 cm x 23 cm (LxH)
Spades: Requires assembly, comes in two types, square measures approx. 36 cm L x 9.5 cm Shovel Width.
Round Point measures approx. 40.5 cm L x 9.5 cm Shovel Width. The handle on each tool measures approx. 9 cm x 7.5 cm (LXW)
Watering Can measure approx. 12 cm L x ø8.5 cm x 10.5 cm H
Sand Moulds: 3 tower/castle shapes in bright colours
Mill: measures approx. 12 cm x 12 cm x 20 cm (LxWxH)
Recommended for kids age 3 years +
sand toys
Specifications
| | |
| --- | --- |
| Barcode: | 5060758216790 |
| Material: | Plastic |
| Colour: | Blue |
| Dimensions (cm): | 70.0 length 23.0 height |
| World-Wide Shipping: | If you are looking to send a parcel outside of the UK, take a look at this article for helpful information. |
Wrong part for barrow and wee barrow doesn't work please send new parts for weel
received its going to be for grandson christmas
hope he likes it as christmas
Total waist of money
Paid extra on 22Aug to get this wheelbarrow delivered quickly for grandchild visiting from overseas It arrived on 24th Aug but had 2 left brackets so we could not put it together. I then had to take pictures to show what was a very simple problem
I was emailed to say this very small bracket had been sent.. It eventually arrived on the 30/8
By which time we had already had to purchase another one from a shop at the beach and my grandson had gone home
I replied to their text that said it had been sent …to ask about a return and to have my money refunded
I have had no reply to this. So it would have been a good buy if it had originally been fit for purpose.
I have been inundated with text since asking for a review
Well this is it 🤷‍♀️
Great product
Really happy with this! Great value for money & arrived quickly. Overall really good service