Video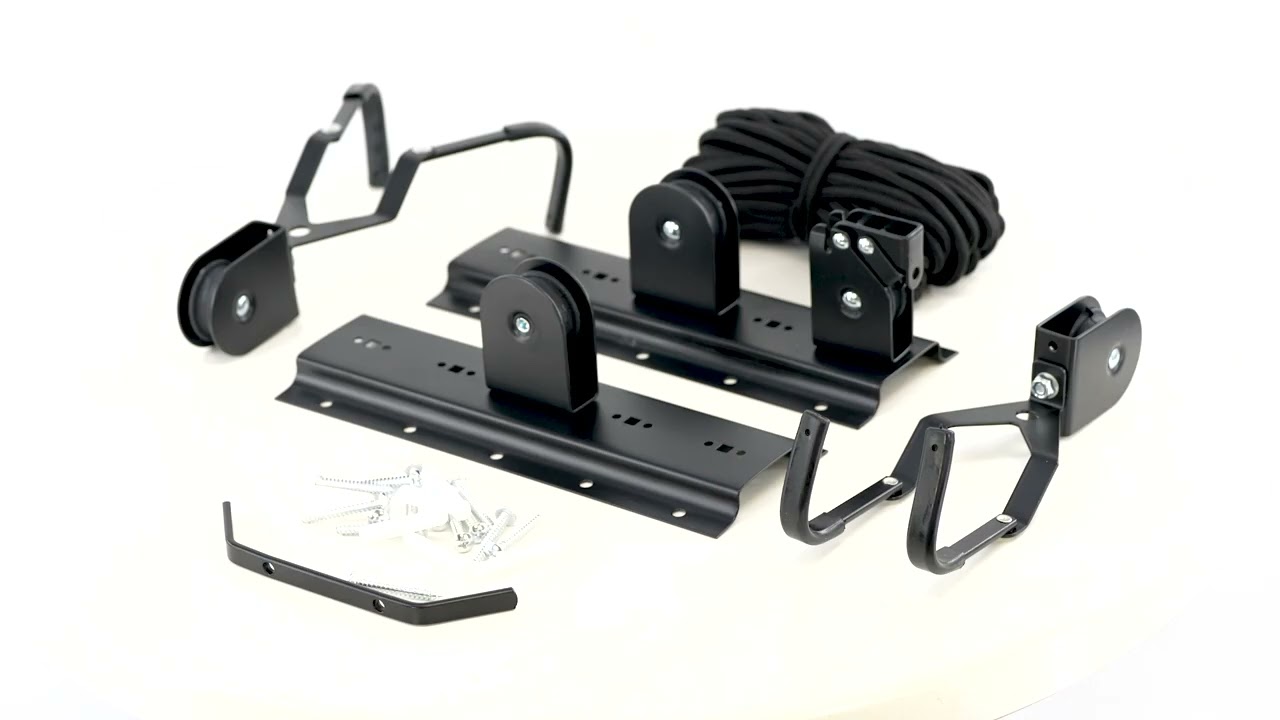 Description
Bike Bicycle Lift
Did you think about creating more floor space in your home, garage, shed, or basement? Putting your bicycle on the ground is not the only way to store it. Now you can choose to store your bicycle on the ceiling with our BIKE LIFT. It is convenient and space-saving.The ceiling storage hoist is IDEAL for storing your bicycle.

SPACE SAVER
Reclaim valuable floor space with our innovative ceiling-mounted storage solution. By elevating your bicycle, you free up substantial room below for other activities and items. This space-saving design ensures a tidier, more organized living environment.

HIGH QUALITY, STURDY AND SAFETY
Sturdy solid-steel construction, smooth pulleys, and strong nylon ropes (Diameter Ø5mm) provide exceptional durability and toughness. The hooks are rubber coated, so your equipment can be protected from scratches. Safety locking mechanism prevents accidental release. Simply black matte finishing for home and garage decor.

UNIVERSAL
Our Bike Bicycle Lift is not limited to just bicycles. It is designed to accommodate a wide range of items, such as kid's bicycles, mountain bikes, racing bicycles, kayaks, extension ladders, and more, with a weight capacity of up to 45 kg. Its versatility makes it an indispensable tool for organizing and storing various equipment, all while utilizing the ceiling height of up to 4 m.

EASY TO INSTALL, EASY TO USE
Mount to your ceiling joist or rafter with the minimum of tools. Pull up heavy items easily with pulley hoist system in a snap.


Bike Bicycle Lift Specifications:

Packaging Dimensions: Height 26cm, Depth 10cm, Width 13cm, Weight 1550gm
Item Dimensions: Height 26cm, Depth 10cm, Width 13cm
Brand: GEEZY
Material: ‎Alloy Steel
Weight Capacity: 45 kg Ceiling Height: Up to 4 m
Specifications
| | |
| --- | --- |
| Barcode: | 5061002260644 |
| Material: | ‎Alloy Steel |
| Colour: | Black |
| Dimensions (cm): | 10.0 length 13.0 width 26.0 height |
| World-Wide Shipping: | If you are looking to send a parcel outside of the UK, take a look at this article for helpful information. |