Video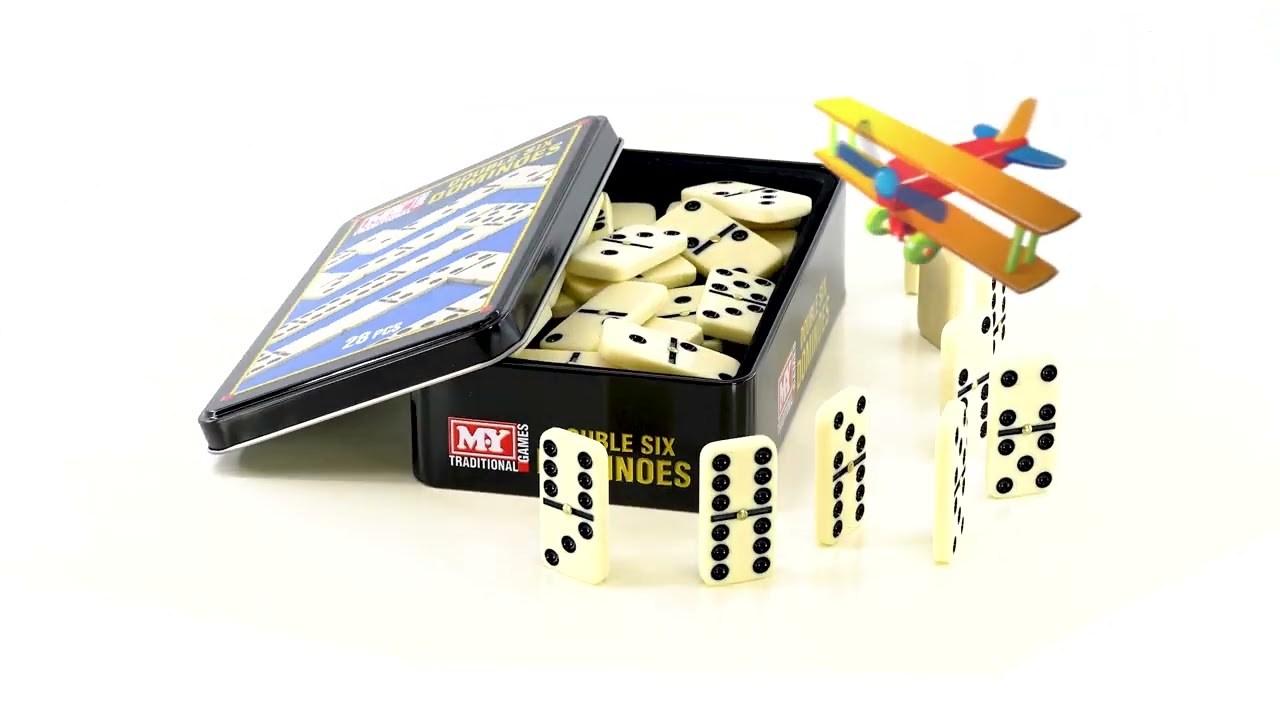 Description
Dominoes
STURDY CONSTRUCTION
The ideal weight and balance of each of these dominoes ensure long-lasting fun! Each domino block is numbered on a standard system, marked blank or with 1-6 recessed dots on both ends, like in a classic double-six table game. The sturdy plastic build of each ivory domino tile contains a metal spinner rivet in its centre, adding a stylish vintage look and making them easier to turn and spin for players!

CONVENIENT CASE
This domino set can be played indoors and outdoors and is complete with a durable storage case made of metal, protecting the tiles from wear and tear and making it easy to travel anywhere!

HOURS OF FUN
This classic table game provides hours of fun for the entire family, both kids and adults! Bring to your next family game night, weekend barbecue or rainy-day fun indoors! Every number combo included is from 0/0 to 6/6, perfect for traditional dominoes games.

SUITABLE FOR KIDS
Colour dot pieces made of a heavily white, ivory-like plastic, odourless. The set comes in a tin case which will help keep your dominoes secure for years without them breaking. Teach kids how to play some of the funniest and more enjoyable games in the world with the instructions included.

DIMENSIONS
Each dominoes piece 4.75 x 2.5 cm; Size of the box 19 x 11.5 x 5 cm Recommended age: 3 years and up

Recommended age 3 years and up

STURDY CONSTRUCTION
The ideal weight and balance of each of these dominoes ensure long-lasting fun! Each domino block is numbered on a standard system, marked blank or with 1-6 recessed dots on both ends, like in a classic double-six table game. The sturdy plastic build of each ivory domino tile contains a metal spinner rivet in its centre, adding a stylish vintage look and making them easier to turn and spin for players!

CONVENIENT CASE
This domino set can be played indoors and outdoors and is complete with a durable storage case made of metal, protecting the tiles from wear and tear and making it easy to travel anywhere!

HOURS OF FUN
This classic table game provides hours of fun for the entire family, both kids and adults! Bring to your next family game night, weekend barbecue or rainy-day fun indoors! Every number combo included is from 0/0 to 6/6, perfect for traditional dominoes games.

SUITABLE FOR KIDS
Color dot pieces made of a heavily white, ivory-like plastic, odourless. The set comes in a tin case which will help keep your dominoes secure for years without them breaking. Teach kids how to play some of the funniest and more enjoyable games in the world with the instructions included.

DIMENSIONS
Each dominoes piece 4.75 x 2.5 cm; Size of the box 19 x 11.5 x 5 cm Recommended age: 3 years and up
Dominoes
...
Specifications
| | |
| --- | --- |
| Barcode: | 5033849035150 |
| Material: | Plastic |
| Colour: | Multicoloured |
| World-Wide Shipping: | If you are looking to send a parcel outside of the UK, take a look at this article for helpful information. |
What excellent value. It suits my purpose superbly
What excellent value . It suits my purpose superbly . Thank you very much .
Good purchase
Arrived early, nice looking product, can't wait to use them.
Did the job!
You can probably get better quality dominos but these were good quality for the price I paid. If your buying the game for kids they'll eventually loose pieces anyway so why spend loads in a set. The box is handy for storage and delivery was prompt.
Great dominoes set
Great set the kids love playing they look like they willook last forever we must hAve played for days in time and kids are off there video games