Video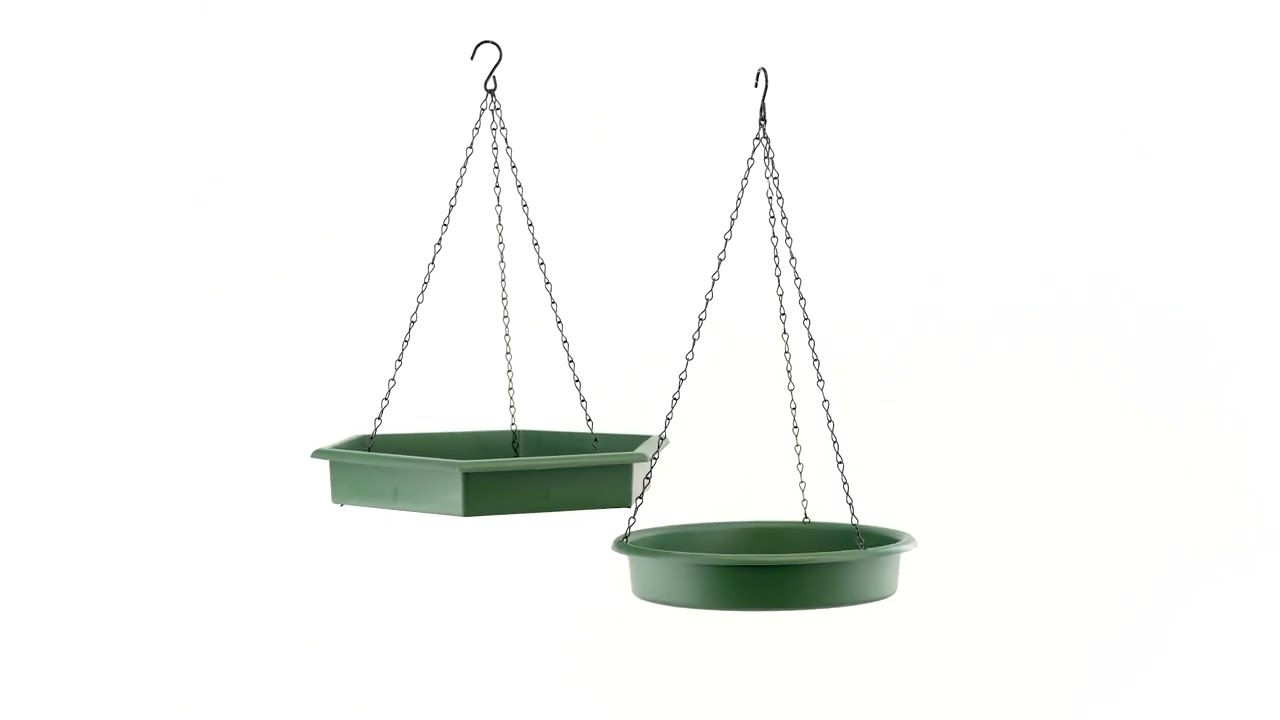 Description
Bird Feeder and Bath
This ingenious two-in-one solution lets you enjoy the beauty of feathered friends in your garden while providing them with sustenance and refreshment. Crafted for durability and convenience, this bird feeder is perfect for both novice and seasoned bird enthusiasts. With its dual functionality, robust construction, and easy maintenance, you're getting a fantastic deal for your avian companions.

DUAL-FUNCTIONALITY
Our bird feeder comes with two chains, offering a unique combination of a bird feeder and a bird bath. This dual-purpose design allows you to create a welcoming space for birds in your garden. Fill one side with water, transforming it into a refreshing bird bath, while the other side can be filled with seeds to attract a variety of birds. This design not only enhances your garden's aesthetic but also provides a cost-effective way to offer both food and water for your feathered visitors.

WEATHER-RESISTANT AND DURABLE
Constructed from high-quality PP (Polypropylene), our sturdy bird feeder is designed to withstand any weather condition. Whether it's scorching heat or heavy rainfall, this feeder will remain unbreakable and rust-free. The smooth surface makes it easy to clean, ensuring that you can maintain a welcoming environment for birds throughout the year. You can use a sink sprayer, water hose, or power washer to quickly and efficiently clean the feeder when it gets dirty.

SEED PROTECTION AND RAIN DRAINAGE
The design of this bird feeder ensures that it provides seeds to your feathered friends while preventing them from getting wet and moldy during rainy seasons. The holes at the bottom of the feeder are perfectly sized to allow rainwater to drain through without letting the seeds fall out. This feature ensures that the bird feed remains fresh and enticing for your avian guests.

CAPACITY AND EASY INSTALLATION
Measuring 32.5cm in diameter and approximately 4.5cm deep, this bird feeder is generously sized to hold a substantial quantity of bird seeds. Its large size accommodates birds of all sizes, attracting a variety of beautiful species, including Cardinals, Chickadees, and Finches. Hanging the feeder is a breeze, as it can be easily attached to a tree branch or railing. Furthermore, the tray can be quickly removed for regular cleaning, helping to prevent the spread of avian diseases that can be a concern at bird feeders.


Bird Feeder and Bath Specifications:

Packaging Dimensions: Height 32cm, Depth 5.5cm, Width 28cm, Weight 345gm
Item Dimensions: Height 4.5cm, Depth 32cm, Width 32cm
Brand: GEEZY
Material: Polypropylene
Contents: 2x Hanging Chains, 1x Large Bird Bath, 1x Large Bird Feeding Tray
Content's Dimensions: Bird Bath (25 x 25 x 5 cm), Bird Feeder (32.5 x 32.5 x 5 cm), Hanging Chains (38 cm Each Chain)
Specifications
| | |
| --- | --- |
| Barcode: | 5061002261108 |
| Material: | Polypropylene |
| Colour: | Green |
| World-Wide Shipping: | If you are looking to send a parcel outside of the UK, take a look at this article for helpful information. |